RECENT PRESS:
"Many bands claim Gram Parsons and Big Star as influences, but few compare to such time-tested landmarks. The reconfigured Lonesome Heroes fill the bill by drawing as much from Seventies pop as they do from a potpourri of country rock.  The ear-pleasing results make for one of Austin's best discs of 2015."
- THE AUSTIN CHRONICLE 
"Cosmic Austin-based band Lonesome Heroes' album Can't Stand Still creeps under the skin, right into your bloodstream. Western Americana fans will delight"
- KCRW 89.9 FM, Los Angeles
BIO:
Austin's Lonesome Heroes reside at the cosmic junction of indie rock and country. Led by frontman Rich Russell's never-ending call of the road, the group have toured extensively behind two acclaimed albums across continents on both sides of the world, while never straying too far from their "Cosmic Americana" roots.
An ethereal reverence for the troubadour spirit is evident in stand out tracks "Western Style Saloons" - an homage to small town dance halls featured on the final season of Netflix's Bloodline - and the linking of asphalt, mind and body in "Steel" - named KCRW's Top Tune Download of the Day. Both appear on 2015's Can't Stand Still, which became more of a state of being than a sophomore album for the Heroes as the number of shows across the U.S. paired with an Australian tour turned into 100+ dates. Can't Stand Still was praised at home by the Austin Chronicle as one of 2015's best albums, featured abroad in Rolling Stone Australia, and received airplay on radio stations throughout the U.S., Europe and Australia.
With a new album on the horizon, Lonesome Heroes are picking up where Can't Stand Still left off, not only returning to Jim Eno's (Spoon) Public Hi-Fi but continually deriving inspiration from the miles put behind. An early single from the forthcoming album Rise & Fall, the co-written "Hope" adds Russell's geography to the wistful hook of songwriter Ron Scott (Gregory Alan Isakov, J Wagner), offering a dreamy look to the material ahead.
As the finishing touches are made on Rise & Fall, The Lonesome Heroes are looking to spend their post-SXSW 2019 touring and topping last summer's run of festival appearances at the inaugural Bastrop Music Festival outside of Austin, Wyoming's WHAT FEST, playing alongside Dwight Yoakam and past Australian tour-mate Ruby Boots at their debut Red Ants Pants Music Festival in Montana, and on the Oregon Coast for Electric Fences as part of a line up including Calvin Johnson (K Records) and Austin friends Leo Rondeau and Little Mazarn.
VIDEO:
Western Style Saloons
Directed by Aaron Robertson
robertsondocprojects.com
MUSIC:
PHOTOS:
Photo Download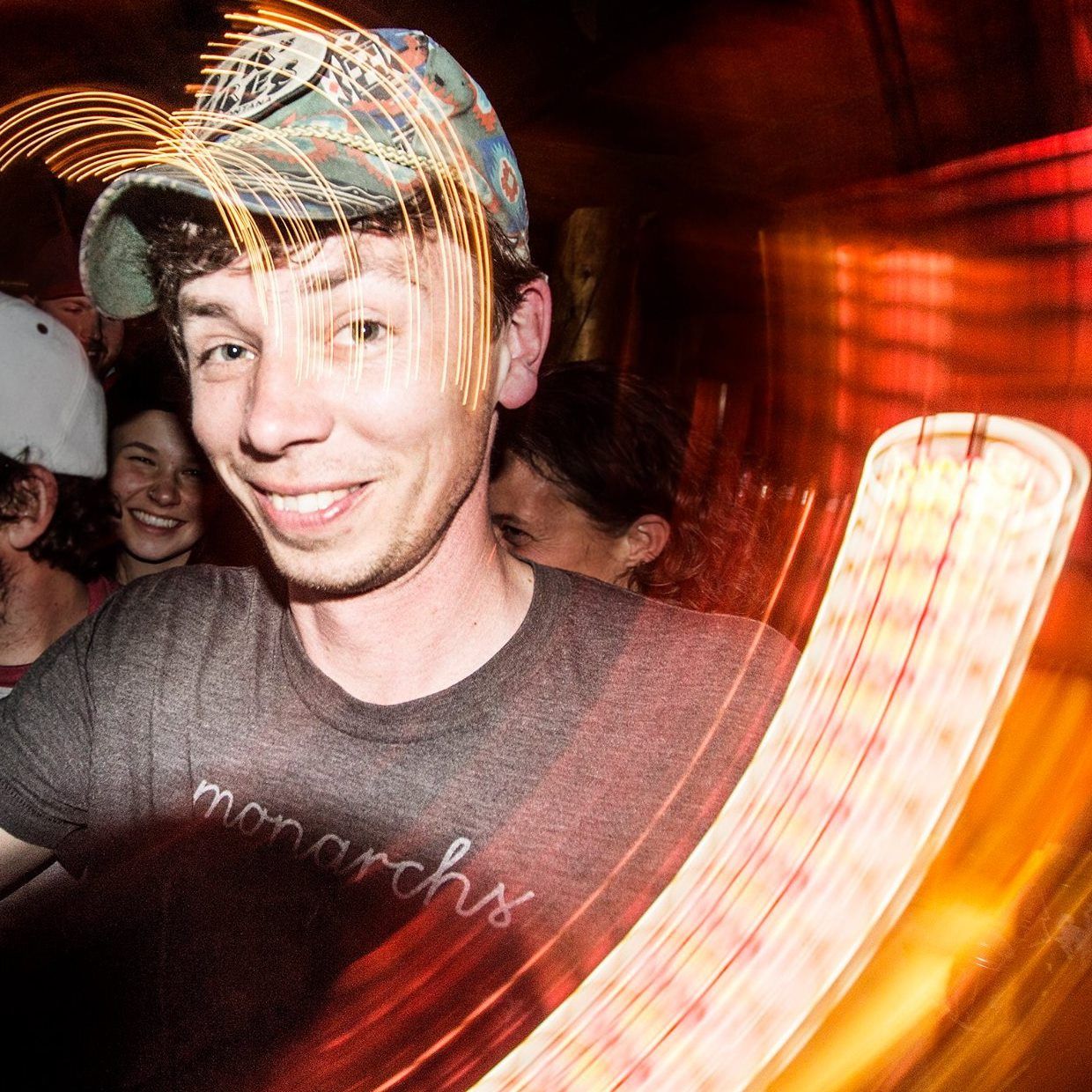 Photo Download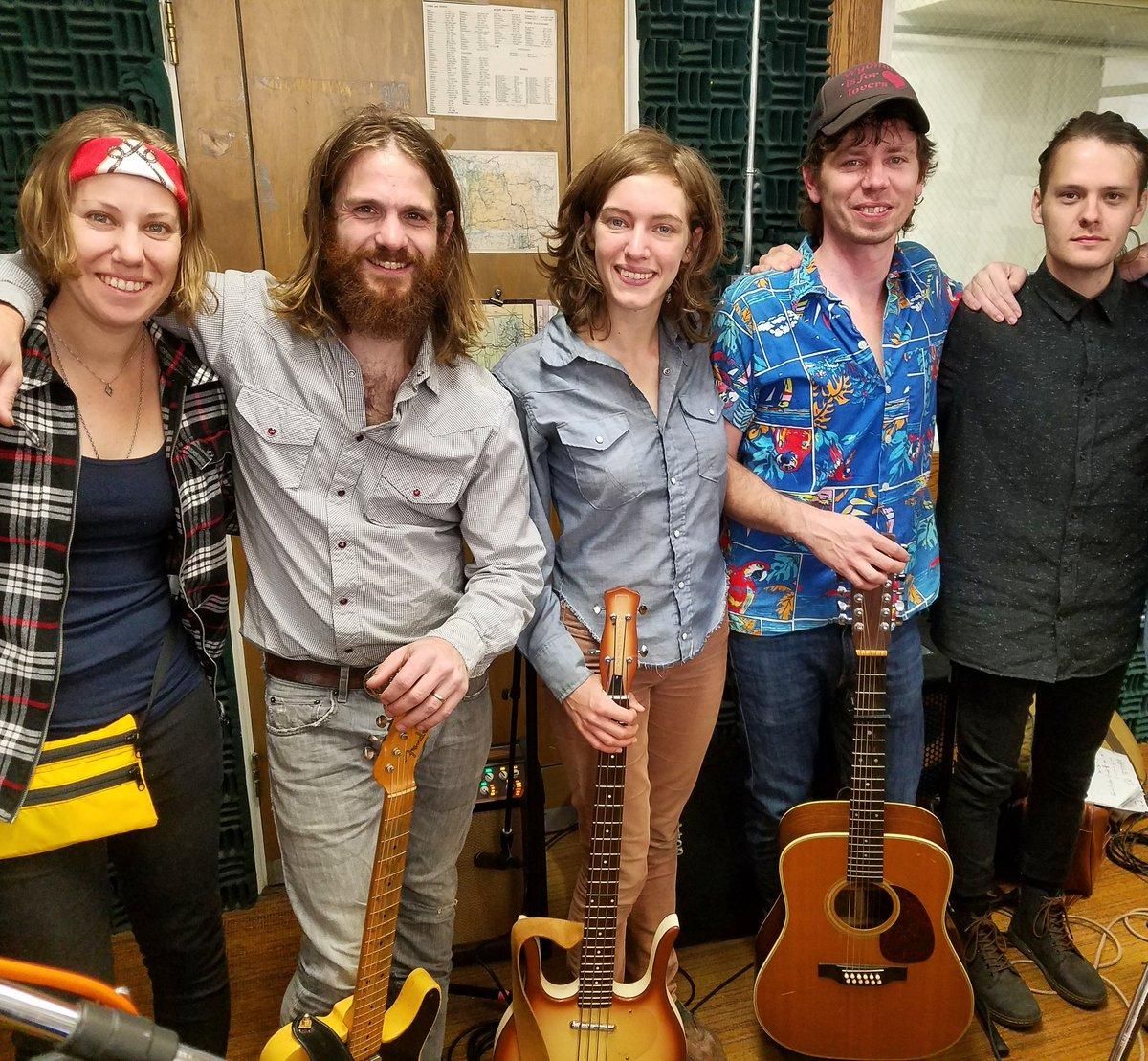 Photo credit: Anna Rader
LONESOME HEROES ONE SHEET:
One Sheet Download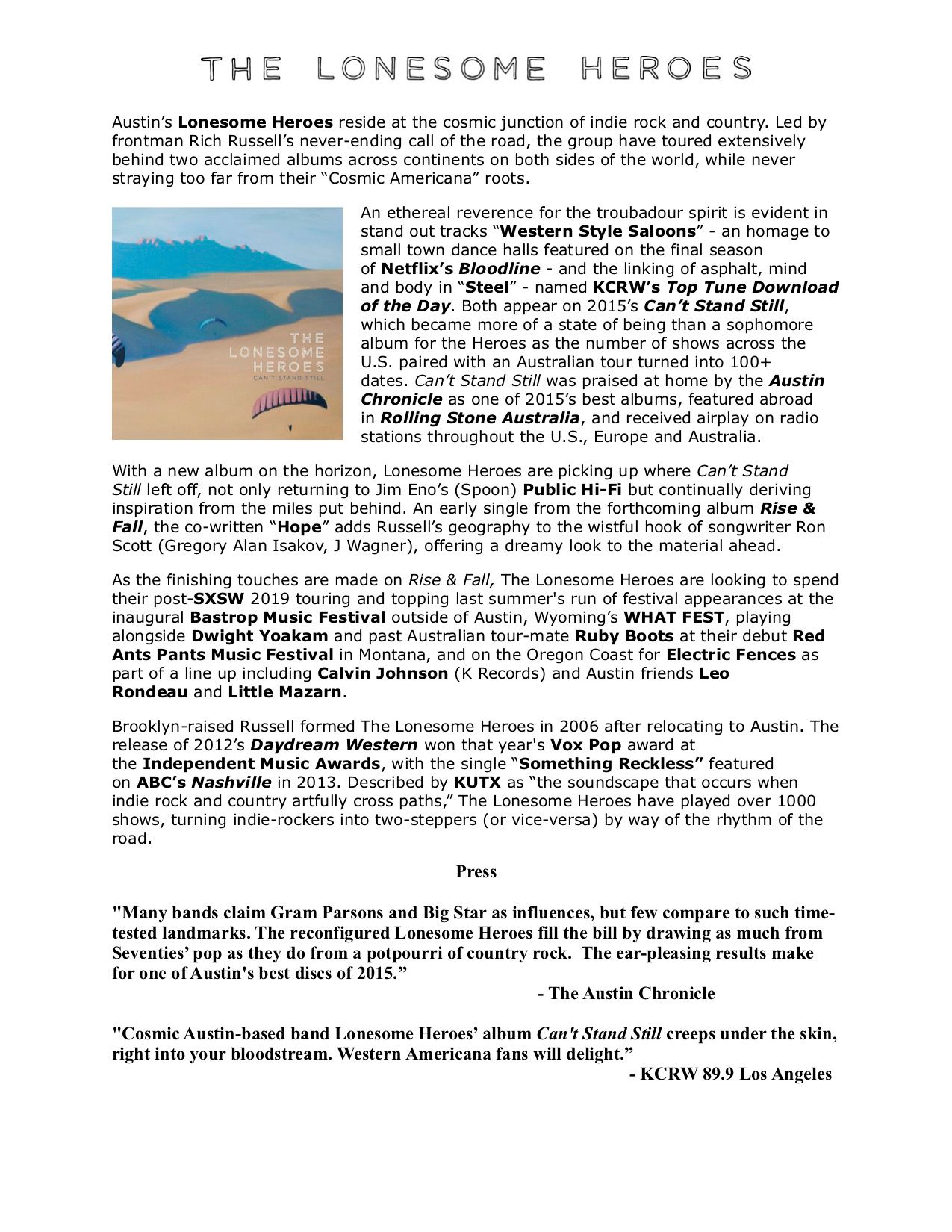 TOUR POSTER:
TIF Tour Poster Download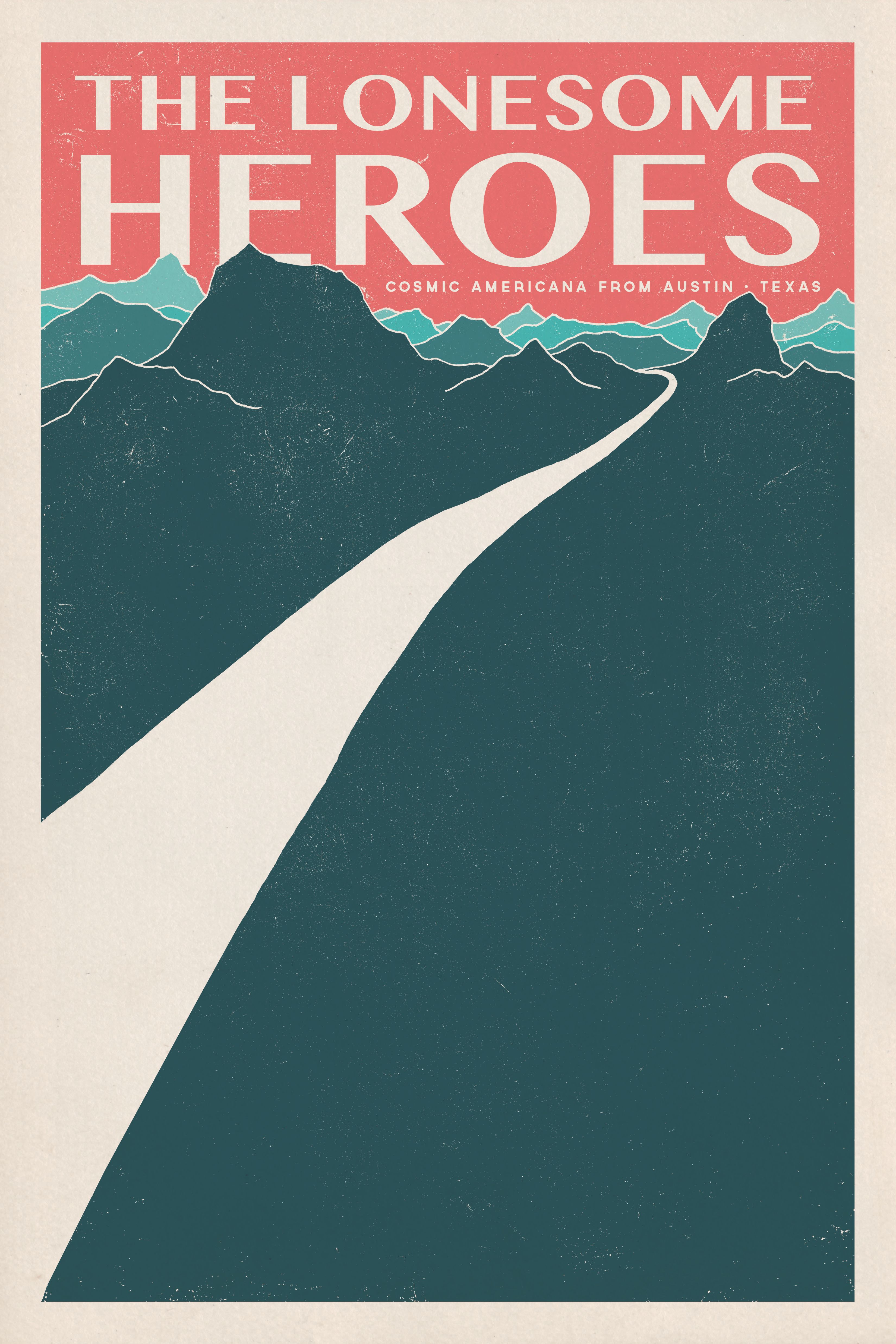 TIF Tour Poster Download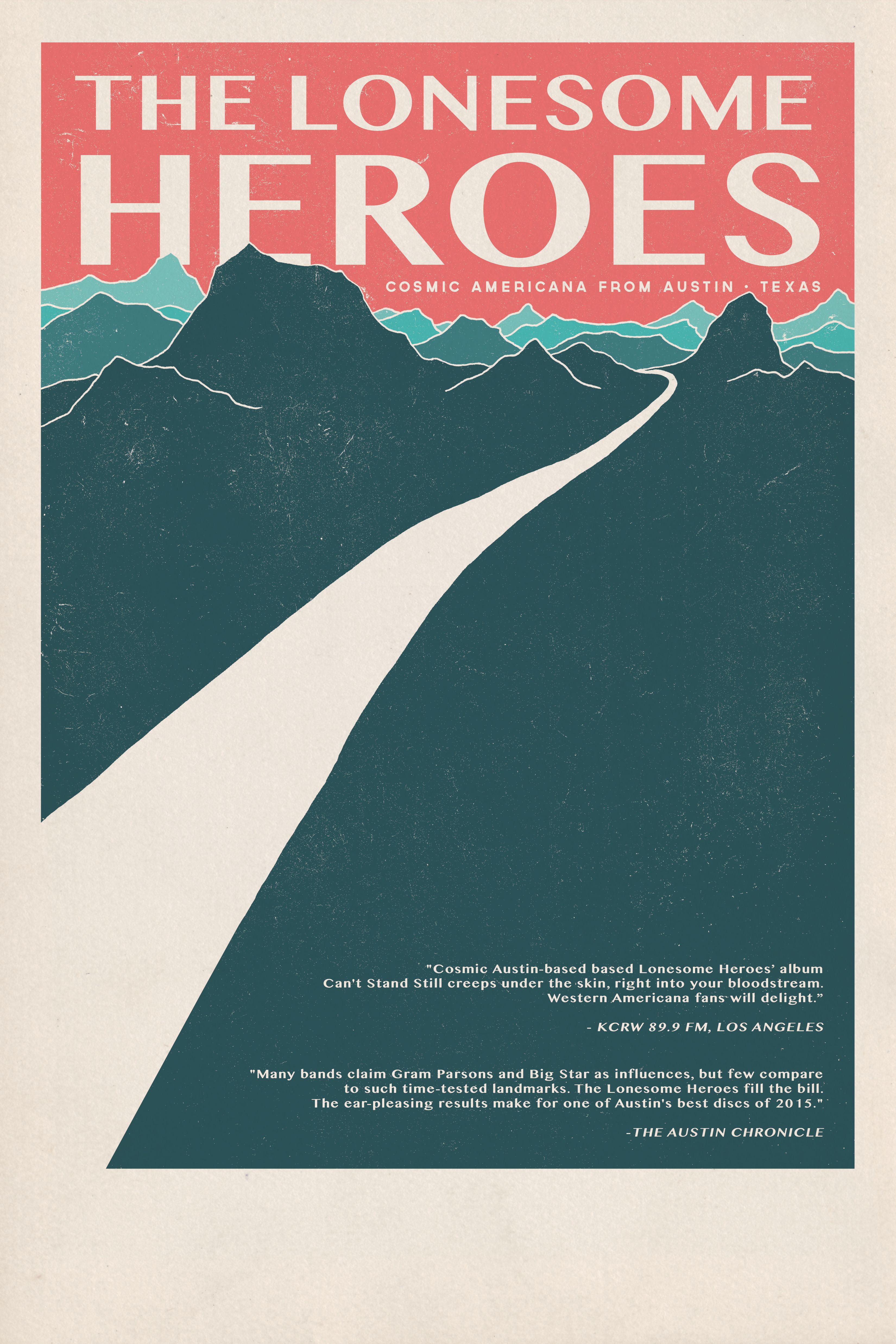 Color Poster Download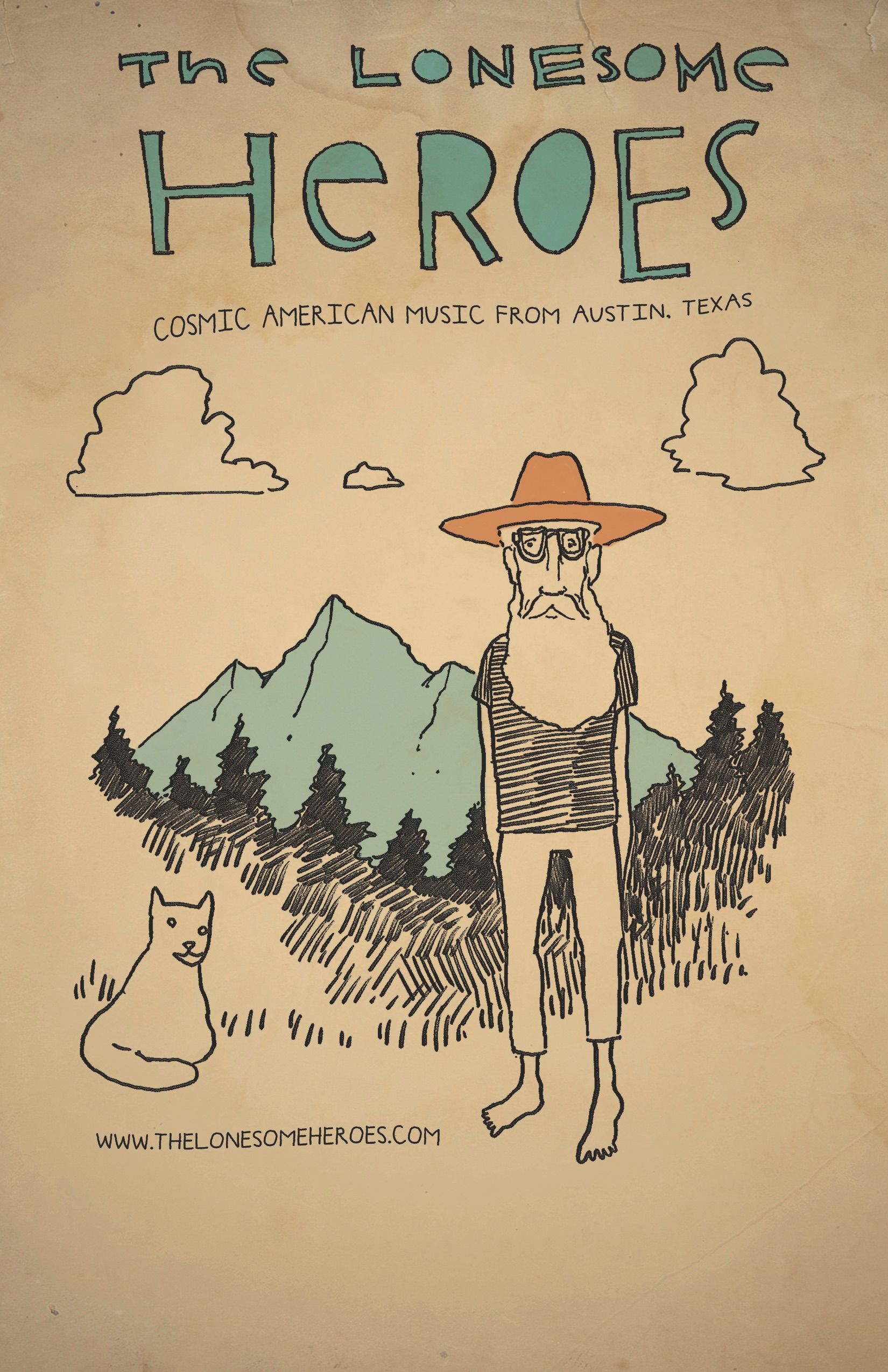 Album Art Download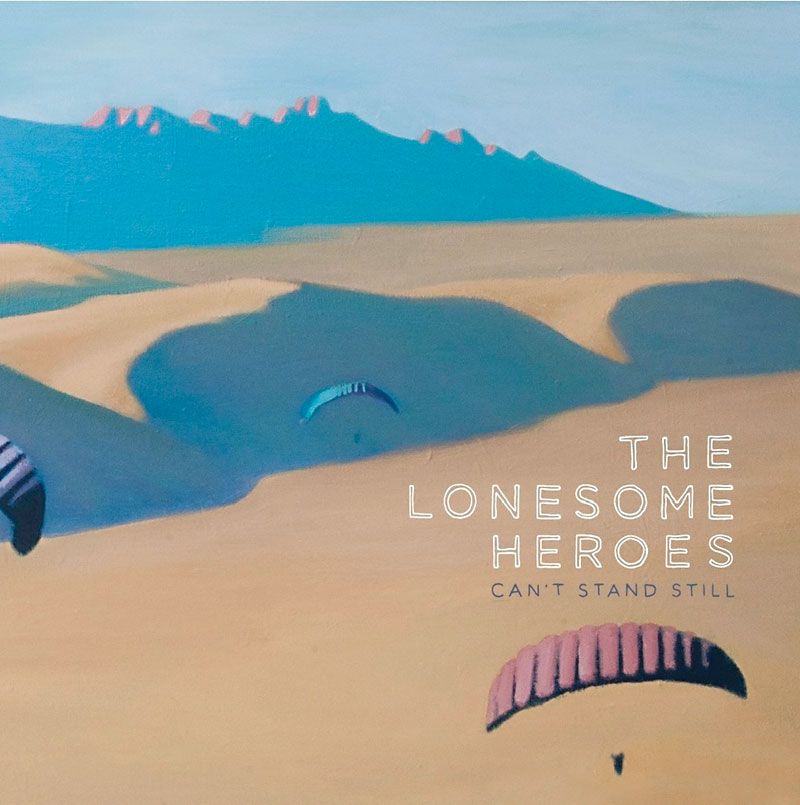 Previous events
The Porch San Marcos Open Mic - Hosted By Vance Loggins every sunday 8-11pm Rich Russell Solo SHowcase 10-11pm